Konek: Smart hotel as a service
Redefining the hotel experience
Since September 2017, Konek has been innovating and offering the very first "Smart Hotel as a Service (SHaaS)": a subscription-based technological and interactive platform, specially designed to simplify the lives of hoteliers and enhance their customers' experience. Our raison d'être is clear: to put hoteliers back in control.
We're technology buffs, always on the lookout for the next innovation to transform the hospitality industry. Ambition and humility are part of our DNA, pushing us to aim high while remaining grounded in reality.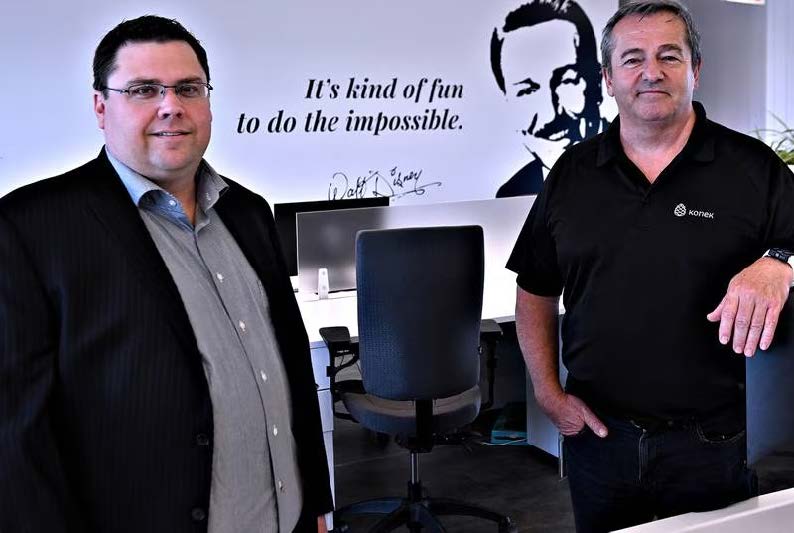 At the heart of technology
Konek was founded by two enthusiasts: Jean-François Rousseau, a digital expert, and Louis Michaud, a hospitality enthusiast. Together, they have created a solution that meets the specific needs of modern hoteliers.
Konek is much more than just a platform; it's at the heart of a hotel's technological ecosystem. By bundling essential services such as Wi-Fi, TV and telephony, Konek enables hoteliers to reduce costs, gain access to visitor data and obtain new tools to better serve their guests in a more personalized way.
Konek.ai doesn't just follow trends, we add our own innovative touch. Our solution turns every hotel room into a technology hub, offering services such as hotel Chromecast and high-performance Wi-Fi with captive portal. Hoteliers benefit from continuous 24/7 support and regular updates, ensuring a state-of-the-art user experience.
Connectivity is also simplified with Chromecast and Airplay integration for seamless streaming. Our Octas 2019 award attests to our dedication to innovation and excellence.
Simple and smart technology for a better stay
Be the next to live the Konek experience